Stellar Magazine speak to psychoanalyst Colin McDonnell on honesty and rivalry
Let's call a spade a spade. Our friends annoy us. Our family annoy us. Our colleagues annoy us. The world annoys us – so we can be damn sure we annoy them too.
Irritation is inevitable as too are its counterparts; hostile comments and actions. Colin McDonnell speaks to Stellar magazine about being on the receiving end of cutting comments from friends and offers some insight in to the psychoanalytic understanding of this facet of relationships.
"So what's the deal?" Stellar Magazine ask "is your truthful-to-a-fault friend really just a straight shooter who doesn't know when to shut it or are her cruel comments a sign of something else?"
The intentions of friends can never be generalised. They are completely individual to the person. What we can say though, is that there's an unconscious aggressive component to even the friendliest and most closely knit of relationships.

As humans we spend our entire lives trying to fill a perceived void in ourselves. For women, this typically involves taking stock of what others have that you do not. To put it another way, we look out at other people and say "they have something I'm missing!"
So what does that mean for you and your pals?
Ask yourself "has this been said of me before?" If it hasn't and you feel the remark is genuinely unfair it's likely more about your own friend's lack, rather than your own. Bear in mind that if someone is getting worked up you can guarantee that there's something at stake that's fundamental to them.

An angry or aggressive statement usually relates to a question the person has about themselves.
Rather than taking up arms and rushing in to endless verbal combat the real task is to decipher what exactly is at play in the comments.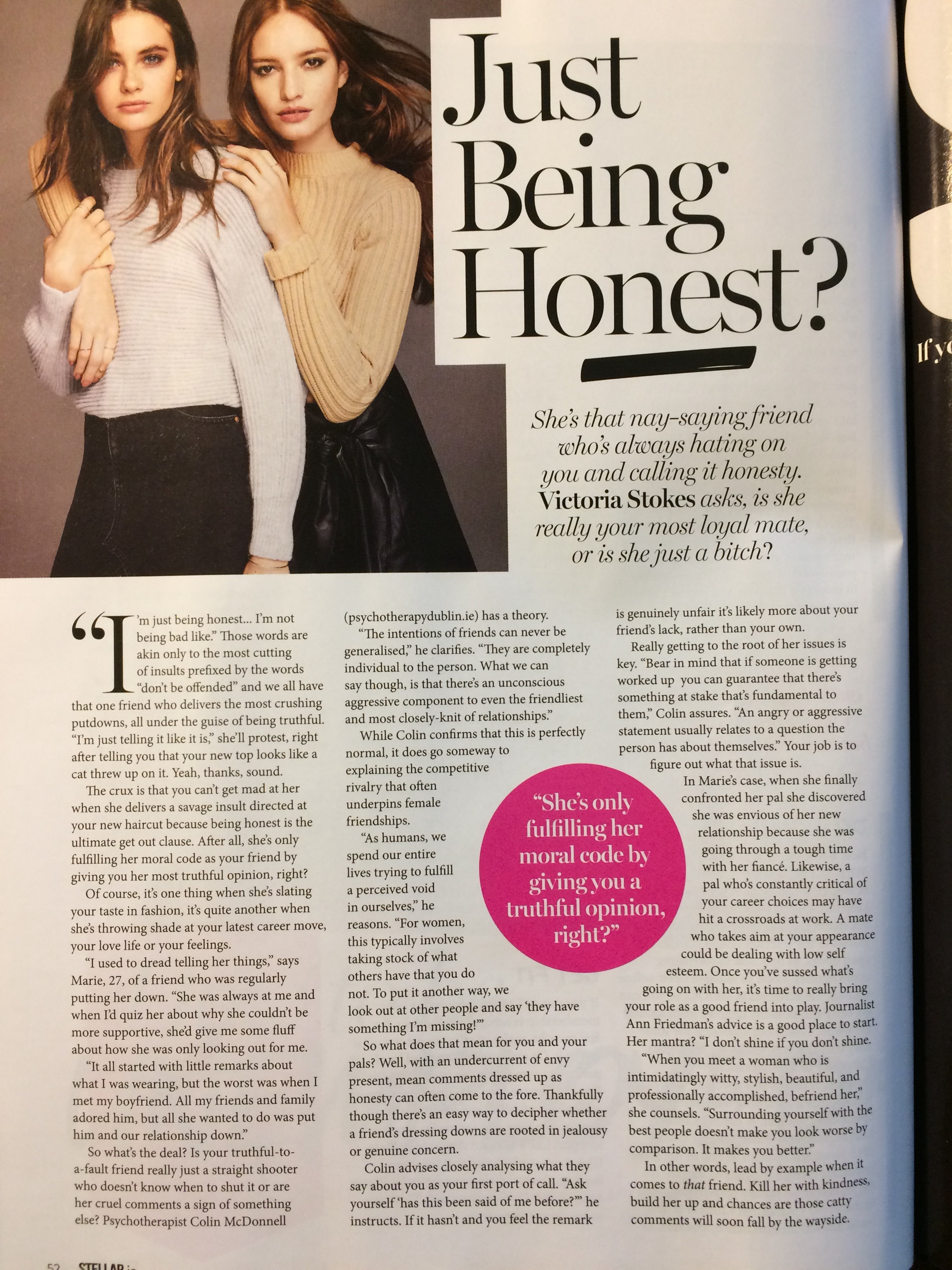 The following two tabs change content below.
Colin McDonnell is a psychoanalytic psychotherapist with over ten years experience working in different health and social settings. Currently he works as a psychoanalyst and Clinic Director at Psychotherapy Dublin. As an accredited psychoanalytic psychotherapist he is a member of APPI, ICP, PSI and PPS. He also holds masters degrees in both psychoanalytic psychotherapy and addiction studies.
Latest posts by Colin McDonnell (see all)